I was looking around for a good seasonal recipe to make for an upcoming teacher's meeting at my children's school and came across this one. It's been a couple of years since I made it but I remember how yummy it was...definitely going to make this one soon!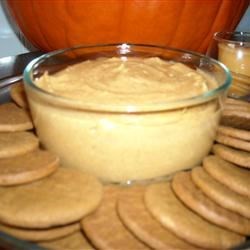 photo from AllRecipes.com
Pumpkin Pie Dip
Outstanding
Yield: 3 cups
Ingredients
1 (8-ounce) package cream cheese, softened
2 cups powdered sugar
1 (15-ounce) can pumpkin pie filling
1 teaspoon ground cinnamon
1/2 teaspoon ground ginger
Garnishes: ground cinnamon, cinnamon sticks
Preparation
Beat cream cheese and sugar at medium speed with an electric mixer until smooth. Add pie filling, 1 teaspoon cinnamon, and ginger, beating well. Cover and chill 8 hours. Serve with gingersnaps and apple or pear slices. Garnish, if desired.